During his visit to Viet Nam, Michael Geoghegan, CEO of the Hong Kong and Shanghai Banking Corporation (HSBC), talked to reporters about the Vietnamese banking industry and the fact that the HSBC wants to buy additional stakes in the Viet Nam Technological and Commercial Bank (Techcombank).
Reporter: Foreign banks have been purchasing shares in Vietnamese commercial banks for about three years now, what benefits do you think  Vietnamese banks have gained as a result of this?
Michael Geoghegan: Choosing a good partner is the most important decision local banks can make. Stock prices are important, but finding a far-sighted strategic partner that is committed to helping you strengthen your position is more important. The strategic partnership between Techcombank and HSBC is a good example of that kind of relationship.
Foreign banks, among them the HSBC, have been active in Viet Nam for 15 years now. How do you think they can assist in the development of the country's banking system and what effect do they have on the reform process?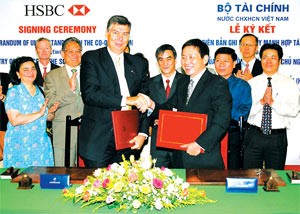 Representatives of the HSBC and Ministry of Finance shake hands after signing cooperation deal
Foreign financial organizations like HSBC have gained lots of experience and technical knowledge from competing in the world market.
With branches in 82 countries, we invest in economies that are exhibiting healthy economic factors and good growth prospects.  HSBC always invest in the long-term and contribute to an economy's development by developing a wide range of financial services.
HSBC has promoted Viet Nam as a good trading and investment destination by organizing or taking part in big events such as the APEC Summit last year, Viet Nam's Day in the U.K., and the annual Viet Nam Investment Forum 2007.
Foreign banks now want to increase their holding stakes in Vietnamese banks from 10 percent to 20 percent. How do you account for this tendency, particularly with regard to HSBC and Techcombank?
HSBC believes that Viet Nam has the potential for a lot of growth so the bank has invested in the country by holding a 10 percent stake in Techcombank.
If the Vietnamese government ratifies new regulations on the ownership of domestic banks by foreign banks, the HSBC will seek to increase their stake in the Techcombank to 20 percent.
Viet Nam in general and its finance sector in particular, have earned a lot of trust from international investors. If foreign banks are allowed to increase their shares in local banks, many financial organizations will follow the lead of HSBC and Techcombank.
On the side lines of the second Viet Nam Investment Forum held in Ha Noi last week, HSBC Vietnam president and CEO Alan Cany said that HSBC is making plans to establish a subsidiary company to HSBC as soon as the Vietnamese government has approved the move.

"With a 100 percent HSBC-owned subsidiary, HSBC will open 5-10 branches in Viet Nam within four or five years," Mr. Cany added.