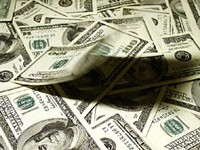 VNBA has decided to raise the maximum interest rate for deposites in U.S dollar.
The exchange rate between the dong and U.S dollar is on the rise as local investors are buying in the greenback, hoping for greater profits as the Viet Nam Banks Association (VNBA) has decided to raise the maximum interest rate for deposits in U.S dollar to 6 percent per annum from 2 April 2008.
An increase of 0.3 to 1 percent in the U.S dollar lending interest rates has recently been reported in many commercial banks. The Viet Nam Bank for Private Enterprises (VPBank) has raised the U.S dollar deposit interest rate to 7 percent per annum for six-month term deposits, which is an increase of one percent.
The South East Asia Joint Stock Commercial Bank (SEAbank) has also applied the new rate of 6.9 percent for a 13-month term deposit while the new rate for six-month term deposits at the Nam Viet Commercial Joint Stock Bank (Navibank) was set at 6.4 percent per annum.
On Friday, a U.S dollar was sold for VND16,300 on the free market which was higher than the average rate of VND16,120 listed at joint-stock commercial banks.
According to many observers, investors are willing to buy in more U.S Dollars at higher prices than those offered at the banks for they believe it will surge even further in near future.
The rate lowered a bit yesterday to VND16,050 - VND16,150 as many banks were closed at the weekend.