Large commercial banks have implemented low interest rate credit packages, exempted and reduced interest rate, and extended debt payment deadline to assist fishermen in the north central region to overcome difficulties in the aftermath of the mass fish deaths.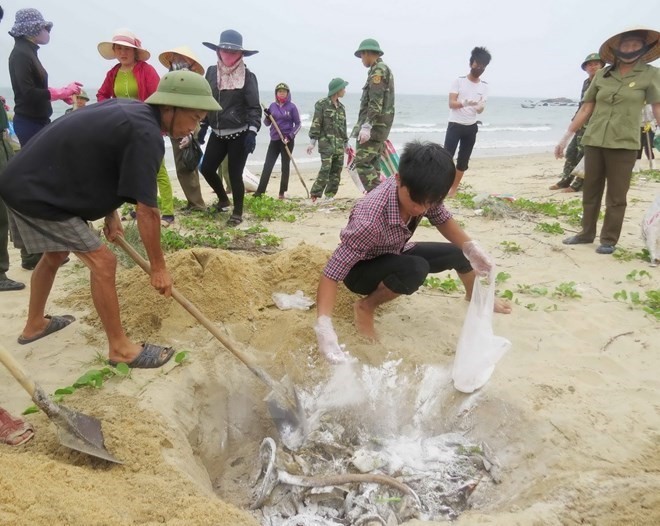 Locals destroy dead fish in the north central region (Source: VNA)
Specially, Bank for Investment and Development of Vietnam (BIDV) yesterday announced a VND1.5 trillion (US$67 million) preferential credit package to customers from fields of seafood production, processing, farming and consumption.
Of these, VND500 billion will be for businesses at short term interest rate of 6 percent and long term rate of 8 percent, the rest VND1 trillion for individuals and households.
In addition, the bank will exempt boat owners from interest payment within six months starting April 8. These customers were formerly loaned under Decree 67 to build fishing boats and now can not sell their catches after the fish death.
BIDV will also extend the payment deadline of original debts and interest of due loans to the boat owners.
Vietnam Bank for Agriculture and Rural Development (Agribank) has announced interest exemption and payment extension to customers in the mass fish deaths in four north central provinces of Quang Binh, Quang Tri, Thue Thien-Hue and Ha Tinh.
They will be provided with VND500 billion (US$22.48 million) with the short term rate of 6 percent and long term rate of 8 percent to implement new production and trading projects. This policy will be implemented within three months starting May 4.
Agribank has donated VND20 billion (US$899,000) and 100 tons of rice to share difficulties with the central fishermen.
Joint Stock Commercial Bank for Foreign Trade of Vietnam (Vietcombank) starts lowering medium and long term rates to 9 percent a year to customers suffering losses from the unusual dead fish today.
Vietnam Joint Stock Commercial Bank for Industry and Trade (VietinBank) has reduced interest rates of all terms to households and businesses damaged by the environmental incident. Specific rate will be decided basing on the situation, the level of damage and difficulty of each customer.