A fierce competition in mobilizing residential savings in medium- and long-terms and the deadline to increase registered capitals have seen commercial banks start to sell convertible bonds.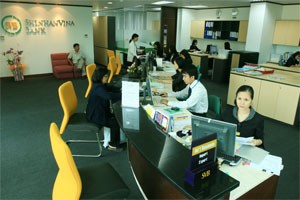 A woman talks with employees of the credit department at the HCMC-based Shinhanvina bank (Photo:Minh Tri)
The State Bank of Vietnam last year released an approval allowing the An Binh Commercial Joint-Stock Bank to issue 600,000 convertible bonds worth VND600 billion (US$30 million) in two years.
Investors can convert the bonds into common shares with the ratio of one-for-100. Malaysia's largest lender MayBank bought 120,000 bonds worth VND120 billion in an effort to maintain its stake of 20 percent in the HCMC-based lender.
Investment fund IFC made a similar move, buying bonds worth VND480 billion to maintain its 10 percent holding.
"The amount from the bond sales will help the bank to increase the credit and investment scale. An Binh bank will pump the mobilized capital into investment projects, networking expansion, banking service packs and equipments," said Vu Van Tien, chairman of the bank, known as ABBANK.
The convertible bond sales are also a stepping stone to boost the lender to be among the ten largest banks in Vietnam, Tien added.
The State Bank of Vietnam requires commercial banks to raise their registered capital to at least VND3 trillion (US$162.5 million) by December this year, which is triple the current minimum level of VND1 trillion.
In an attempt to make sure all lenders meet the requirement, the central bank has ordered them to report on their plans to raise capital by the end of March. Commercial banks have also been asked to propose their own solutions in case they fail to raise enough capital by the deadline.
A government decree stipulates that if a financial institution is unable to meet the minimum capital requirement set for each period, it will face penalties or have its license revoked.
Economist Le Tham Duong of the Ho Chi Minh City Banking University said there are various methods to raise capital, including issuing shares, convertible bonds or mergers and acquisitions.
Financial experts said buying convertible bonds would offer both domestic and foreign investors opportunities to possess stakes in profitable banks in long-term.
Lenders prefer convertible bond issuances to mobilize capitals than other services as they do not have to raise their reserve requirement, experts said.
The fund raised from convertible bond issuances will enable banks to upgrade their equipment, modernize their managements and release more banking service packs, analysts said.