Financial experts warn that many lenders are making use of their subsidiaries in an attempt to dodge the central bank's regulation on cutting the credit growth rate to below 20 percent and the 14 percent rate cap of dong deposits.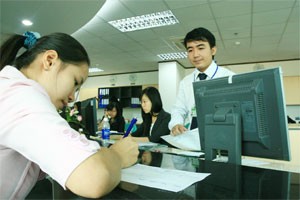 A woman fills a form to deposit money into ShinhanVina Bank in HCMC. Experts warn many lenders are trying to dodge the central bank's regulation on lending growth and rate cap on dong deposits (Photo:Minh Tri)
Many commercial banks sought approval from shareholders at the annual general meeting (AGM) this year to set up subsidiaries.
Ho Chi Minh City-based VietABank announced at the AGM that it will set up subsidiaries, which specialize in real estate and financial services.
TrustBank planned to issue additional shares to raise its registered capital by VND2 trillion (US$100 million) to VND5 trillion this year.
The lender, which is based in the southern province of Long An, will pool a part of the amount to cooperate with foreign and domestic partners to set up subsidiaries, which specialize in property, stock, insurance, money transferring and foreign exchange.
Nguyen Dinh Tung, deputy general director of Hanoi-based Maritime Bank, said the lender will set up a financial company providing consumption loans for individual clients.
HCMC-based NamA Bank is seeking shareholders' approval to set up financial firm Nam A with a chartered capital of VND500 billion.
The move of the lenders triggered questions why they set up investment firms amid the bearish property and stock market.
An official of a commercial bank, who wants to be unnamed, told Dau Tu Tai Chinh Newspaper that financial subsidiaries of lenders are not only working as investment funds, but also providing banking services, including deposit, bond and treasury bill issues, lending and foreign exchange.
Financial experts warned lenders could make use of their subsidiaries to dodge the central bank's cap on the lending growth rate of below 20 percent this year.
The State Bank of Vietnam last month cut credit growth this year to below 20 percent from an initial target of 23 percent and brought money supply growth to 15-16 percent from 21-24 percent in an effort to contain price pressures.
It also warned to double reserve requirements for banks which fail to bring down their credit growth this year, as policymakers try to curb double-digit inflation.
Banks are required to reduce loans for non-production activities to 22 percent of total credit by June 30 and to 16 percent by the end of this year, the central bank said in a directive on its website (www.sbv.gov.vn).
Experts warned that many lenders also tried to dodge the central bank's 14 percent rate cap on dong deposits by investment trust contracts, which are signed by their subsidiaries and clients. The amount of capital mobilized by subsidiaries will then be transferred to the banks.
Last year, some commercial banks with large capitalization took profits from loaning small lenders. To curb the issue, the central instructed its branches nationwide to inspect the amount of deposits at lenders with small capitalization.