The circular limiting sub-prime loans for securities trading will make the local market healthier, said Đo Bao Ngoc, a senior stock expert from MBS securities company.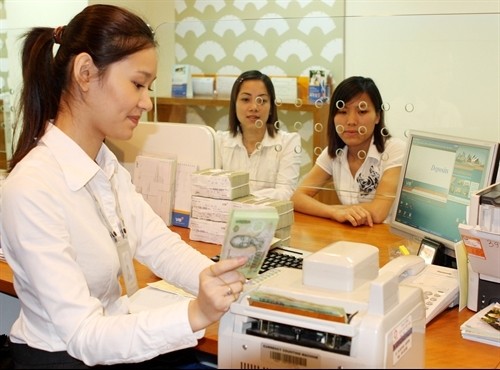 Customers request banking transactions at a branch of VIB. Experts say the circular limiting sub-prime loans for securities trading will make the local market healthier. — VNA/VNS Photo Trần Việt
Ngoc said Circular 07/2016/ TT-BTC, effective on March 15, stopped securities companies and investors from using third-party loans between them and banks for margin trading in order to limit investment risk.
Prime loans were the margin lending between securities companies and investors, allowed by the State Securities Commission and the Stock Exchange, accounting for 80 per cent of the total margin loans while the sub-prime margin were those  under which securities firms used their own money and investors' money as a deposit to take loans from banks.
Prime loans are handled by big securities companies with good capital, equity, bond deposit took advantage in using large-scale lending.
Most of the small securities with lower financial potential took the sub-prime margin to attract more investors.
Some small securities firms let their investors use margin trading with stocks that were not included in the permitted list and offered loans of more than 50 per cent.
A securities leader told the financial website tinnhanhchungkhoan.com that some banks whose securities company are a subsidiary, did not ask for a deposit before lending.
Cash flow won't change
Ngọc said the circular only changed the disbursement mechanism for sub-prime loans but would not influence the cash flow of the market much.
Under the circular, brokers must withdraw their collateral at the bank while investors must close their account and have no more disbursement from the bank. Ngọc said in this case some investors had to sell their mortgage securities to finish their obligations with the banks.
He said though the movement could limit cash flow in the market, while on the other hand, increased the supply of stocks, giving more chances for other investors.
Ngọc said the limitation of sub-prime loans could not cause any technical correction to the market as sub-prime loans only accounted 20 per cent of the total margin and would be closed between one and three months.
Different from a margin call which immediately demanded an investor to deposit additional money or securities to retain their account, the circular would allow investors to decide their selling between two weeks and a month as minimum. Thus, it would not create net selling in the market, MBS's official said.
The circular is expected to make local investors to turn back to the prime margin loans, investing in blue chips thus boosting the local stock market.