An international workshop on Increasing Access to Credit in Vietnam through Collateral Reform, which was part of an advisory project begun by the Ministry of Justice and foreign partners in June 2006 to make it easier for Vietnamese small and medium-sized enterprises to borrow money, was held in Ha Noi on Wednesday.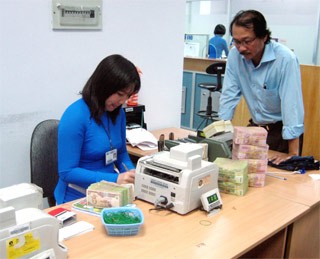 Vietnamese businesses will enjoy greater access to credit (Photo: T.C.)
The workshop was jointly organized by IFC, the private sector arm of the World Bank Group, and its advisory services facility, the Mekong Private Sector Development Facility (IFC-MPDF), together with FIAS of the World Bank Group, and the Ministry of Justice.

Sin Foong Wong, IFC's Country Manager for Viet Nam said, "Greater access to credit is crucial to achieve more widespread business growth in Viet Nam, particularly for small and medium-sized enterprises that now generate 60% of GDP."

"Most of these firms cannot finance their operations through formal means because they cannot meet the collateral requirements of Viet Nam's financial institutions. Currently Vietnamese banks rarely lend without property as collateral," he added.

A recent IFC-Viet Nam Bankers' Association survey of lending practices shows that 93% of banks prefer real property as security for commercial loans.

However, the assets of most businesses, especially small and medium sized enterprises, are usually movable assets such as inventory or receivables. These moveable assets, which are worth billions of dollars, could be put to productive use and contribute to economic growth if businesses could use their assets to secure the financing they need to upgrade and expand.

In the workshop, which discussed recent reforms as well as remaining challenges, participants welcomed the new Decree for improving the lending environment, but said more work was needed.

Decree No. 163 on Secured Transactions has brought the legal framework into line with the country's economic development policy as well as international practices.

Participants in the workshop agreed that effective implementation is needed to maximize impact. This includes computerizing the transaction registration system, reforming the law on secured transactions, and educating financial institutions about the reforms and how to profit from asset based lending.

Apart from legal reform, Viet Nam also needs to set up an effective secured registry, said Nguyen Thuy Hien, Director General of the National Registration Agency for Secured Transactions.

He said, "This will give financial institutions the quick and accurate information they need to make good lending decisions. Having this information available on an easy-to-access secure website will greatly enhance information flow, and make it easier for all parties involved."

"We look forward to continuing support from IFC-MPDF and FIAS, as well as active participation of commercial lenders, in order to significantly increase moveable asset lending in Viet Nam," he added.