People have switched to saving in Vietnam dong instead of US dollar ever since USD deposit interest rates were capped at less than three percent per year, in line with the Government Resolution 11 for stabilizing the foreign currency market and interest rates.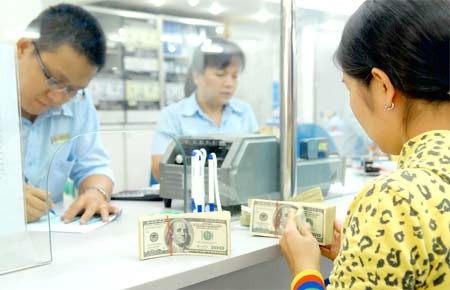 A teller counts US dollar banknotes at an Eximbank branch in Ho Chi Minh City (Photo: SGGP)
People prefer to deposit in dong because the savings rate of the dong is 11 percent higher than that of the dollar.
 
Since April 13, when the new ceiling on USD deposit interest rates was applied, the amount of dong flowing into banks has soared sharply, as people have changed dollars to dong for saving deposits.
 
This switch has helped to keep dong deposit rates stable.
 
People have also begun to trade their dollars through banks rather than trade in the open market. The USD buying rate in the bank is VND65/dollar higher than the open market, while the USD selling rate in the bank is VND65/dollar lower.
 
Some commercial banks said they have bought millions of dollars a day. Since banks have been able to buy more dollars from people, they can meet increasing demands by enterprises.
 
The current total dollar demand is US$165.1 million, while the total volume of dollars bought by banks is US$161.4 million.
 
Since people have turned their backs to the dollar free market, foreign currency trade shops have remained dull, with some even stopping trading in dollar.