Many commercial banks have slightly increased Vietnamese dong deposit interest rate for short terms by 0.1-0.5 percent a year since early September with the aim to keep customers as a large number of them have drawn their savings out to buy U.S. dollars, gold or property to avoid price acceleration.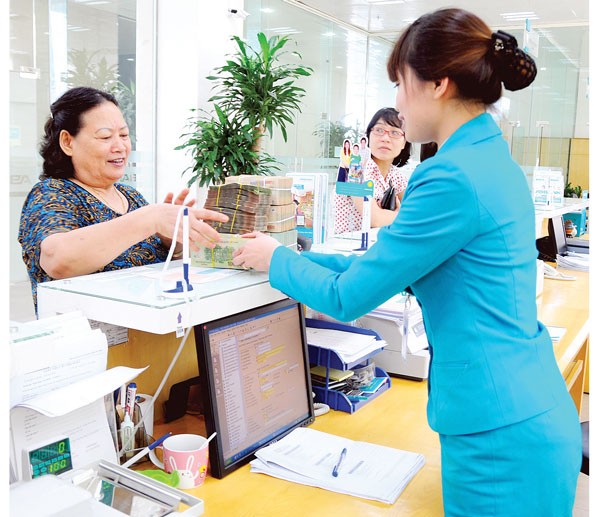 Many banks have increased bonus interest rate in dong to lure leisure money from residents (Photo: SGGP)
The US dollar to Vietnamese dong rate has increased to 5 percent since early this year, meaning the dong has depreciated 5 percent while savings account rate for six month term at the bank has been only 4.8 percent a year.
Some commercial banks in Ho Chi Minh City have told Sai Gon Giai Phong that their customers had tended toward changing dong savings into dollar, gold and real estate.
A leader of a medium bank in HCMC said that when the dong was depreciated, deposit interest rate must naturally increase to make up the depreciation and keep customers.
Large banks have still kept their interest rate unchanged because of pressure from authorized agencies. However, small and medium banks are ineluctable to lift the rate.
Since early this month, they have increased the rate for short terms, for instance, An Binh Bank has raised it by 0.2 percent per year for less than six month terms, Vietnam International Bank hiked it by 0.2-0.3 percent for 3-5 month terms, SeABank 0.2-0.4 percent for 3-12 terms and Ban Viet Bank 0.5 percent for six month term.
Currently many banks have offered promotional programs to spur savings, for instance they have given customers presents such as household appliance, cash and scratch cards and others.
Data from the State Bank of Vietnam show that the economy's non-performing loan ratio has strongly increased to reach 9.31 percent as of August 20 compared to last yearend when it was only 7.26 percent.
Experts warned that although bonus rate increase would benefit customers, it might gradually heat up interest rates including loan rates, which the State Bank have made efforts to reduce.
A representative from HSBC Vietnam predicted that the bank rates are unlikely to reduce from now until the end of 2015 because exchange rate pressure gradually make businesses and residents to buy foreign currencies for their future payments.
This would burden the market's liquidity and increase short-term interest rates, however medium and long term rates will not be affected because of under-control inflation, he added.
Normally, banks will adjust their deposit rates faster than normal to keep customers and increase bank rate to ensure profit afterwards. However in the context of credit growth difficulty, large banks would accept to see profit down or breakeven to sustain loan interest rates, he explained.
Many small banks have usually looked at large banks to adjust their interest rates to ensure customers rights and prevent them from fleeing.
Therefore, experts forecast that banks will still tend to boost lending well performing businesses in the upcoming time, hence loan interest rate increase will neither lengthen nor occur in wide scale.
Mr. Nguyen Hoang Minh, deputy director of the State Bank of Vietnam in HCMC, said that banks have applied common saving rates at 5-6.1 percent a year for 1-5 month terms and 6.1-7 percent for 6-12 month terms, which still profit depositors because of low inflation rate.
 
Despite of the dong devaluation recently, savings amount in Vietnamese dong at banks has not reduced, proving it still a safe and profitable channel, he said.