After the latest increase in September, many commercial banks have continued lifting their bonus interest rate by 0.2-0.5 percent for long terms and provided promotional programs to lure depositors.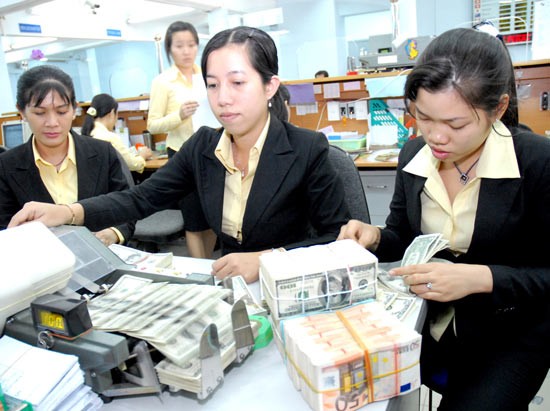 (Illustrative photo: SGGP)
VietCapital Bank has raised the reward rate by 0.2 percent for term above six months taking it to 6.5-6.8 percent a year for 7-11 month terms.
Last week, Export Import Bank lifted the rate by 0.1-0.5 percent for terms of above 12 months. The highest rate is 7.5 percent per year for 13 month term now. Terms of 24-36 months have seen it up to 6.6-6.8 a year.
 
The bank has also presented customers depositing from VND30 million and more.
Vietnam Technological and Commercial Bank has increased the rate by 0.2-0.4 percent in Vietnamese dong for terms of three months and longer, hitting 6.25-6.35 a year to 12-13 month terms. The highest rate touches 6.45 percent a year to 18 month term.
Previously, Saigon Thuong Tin Commercial Bank had adjusted the rate to hit 7.55 percent a year for 13 month term and 6.4 percent for 24-36 months. 
These banks said that their move aimed to supplement capital for loaning in the coming yearend season when businesses will need capital to meet increasing consumption demand.
A leader of the State Bank of Vietnam in Ho Chi Minh City also said that the interest rate hike was to meet credit demand ahead of the yearend season.
However, it has occurred in small joint stock commercial banks not large banks such as Vietnam Bank for Industry and Trade and Bank for Foreign Trade of Vietnam, who still keep the rate stable at 4.5-4.8 percent a year for 1-3 month terms, 5-5.5 percent for half a year term and 6 percent for one year term, he added.