Although the deadline of the regulation on cutting credit to non-production businesses by the state bank approaches, many lenders find themselves grapple to meet up the requirement.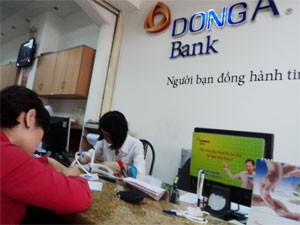 Lenders are struggling to reduce lending to non-production businesses to less than 22 percent in accordance with the central bank's order, which will take effect at the end of this month (Photo:Minh Tri)
On March 1, the State Bank of Vietnam ordered all lenders to limit lending to non-production businesses, including real estate projects, at 22 percent of total loans by June 30th, and at 16 percent by the end of the year.
The government in February approved a plan to cut annual credit growth to below 20 percent from the initial target of 23 percent as part of a series of measures to curb inflation.
Efforts to reduce the credit to non-product businesses to the required rate have seen many commercial banks try many ways at any cost.
Some lenders having already loaned property firms signed agreements with the companies to provide them with loans for production businesses.
The lenders actually continued to finance those builders' construction projects in progress, such as apartment buildings or shopping center, in order to help the builders to finish their work. The property firm then could sell or lease out their properties and have enough money to repay the loans. 
Some other banks even turned the amounts of deposits they mobilized at high interest rates into the repayments of non-production debts.
Many lenders say they struggle with the requirement as most of loans to property projects are in medium- and long-terms, which amount to 2-3 years at least.
"Many builders could not repay loans as their sales were hit badly by the frozen property market. Some even had to sell their apartment projects at net prices," a deputy general director of the Housing Development Commercial JS Bank told Dau Tu Tai Chinh Newspaper.
Governor Nguyen Van Giau, meanwhile, has said the state bank would not reschedule the deadline of the regulation on cutting back on credit to non-production businesses and warned that the central bank would strictly punish lenders failing to meet up the requirement on time.
The latest figures from the state bank show the country' credit to non-production sector has decreased to VND222 trillion (US$11 billion) from VND235 trillion so far this year, of which the credit of HCMC-based lenders reached VND95 trillion.
There are 18 commercial banks with rate of lending to non-production businesses higher than 22 percent, of which one has the rate of over 50 percent and eight has the rate of over 30 percent.
Some others, meanwhile, reached the goal. Nguyen Thi Ngoc Van, deputy general director of DongA Bank, said the bank's credit to non-production businesses amounted to 17 percent only.
The HCMC-based lenders has no plan on providing lending to non-production sector, especially property and stock investments.