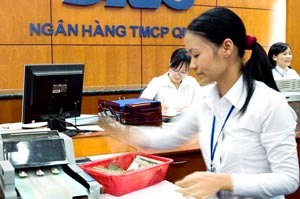 Cash transaction at the Military Bank. (Photo: T.C)
On July 14, the Military Commercial Joint-stock Bank - Ho Chi Minh City Branch (MB HCM) held a ceremony, at Legend Hotel, to mark its 10th anniversary of operation.
Despite being founded with disadvantages in capital size, experience as well as technology compared to other state-run commercial and joint venture banks, Military Bank (MB) has showed great effort to overcome obstacles and expand its market share.
After 10 years, the chartered capital of MB has reached VND 675 billion, increasing 34 times. By the end of 2006, the bank's shareholder equity is expected to go over VND 936 billion, 50 times greater than when it was founded.
Its total asset has exceeded VND 11,496 billion from VND 32 billion. In 2005, the bank raised VND 7,047 billion in deposit and lent VND 5,013 billion.
MB's earning has also grown steadily over years. In 1995, the bank's earnings were only VND 4.8 billion but came close to VND 150 billion in 2005. The earnings, in 2005, increased by 60% over that of 2004, and were 21% higher than the planned figure.
In the first half of 2006 alone, MB's profit reached 125.7 billion, increasing the total earnings since the bank founded to VND 786.75 billion.
"MB HCM will maintain the annual credit growth of 10-15% and the deposit growth of 16-20%. It expects to reach VND 1,400 billion in deposit by 2008, including 50-60% from enterprises and individuals," said Dang Quoc Tien, Director of MB HCM.
MB currently has 34 branches, transaction offices and subsidiaries located in the country's big economic centers along with a large partnership system of more than 300 agents in 56 countries and territories.
Related Links:
Military Bank's website