The flow of foreign currencies into Viet Nam from overseas Vietnamese is stronger in late months of the year. Many banks forecast an increase of 50 percent more, and the money remitted to families in Viet Nam this year will rise by 20 – 30 percent compared to last year.

Better money transfer services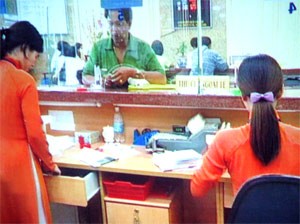 At a money transfer branch of Sai Gon Commercial Bank (Photo: T.C.)
The money remitted to families in Viet Nam through banks and companies has recently increased considerably thanks to open and clear regulations like the payment in foreign currencies and better services like home delivery in 24 hours, 24/7 services, and free calls for receivers to their overseas relatives to confirm their receipt of money.

Deputy General Director of Eastern Asia Commercial Bank (EAB) Pham Van Tan said the bank's convenient money transfer services together with the government's open policies have attracted capital from overseas Vietnamese.

In the first ten months, the money transfer turnover of Eastern Asia Money Transfer Company, an arm of the bank, was US$637 million, a year-on-year increase of 10 percent.

The bank expects the total money remitted from abroad via the company this year to reach US$765 million, up 12% from last year.


Banks' Development Plans

In order to encourage the flow of money remitted from abroad, banks begin to set up new money transfer systems.

Industrial and Commercial Bank of Viet Nam (Incombank) has provided a service of remitting money via E-Partner card. Wells Fargo & Co. Bank of America has cooperated with Incombank to offer the money transfer service at a very competitive fee.

Viet Nam Export-Import Bank (Eximbank) has expanded its cooperation to over 600 bank agents in 62 countries. The bank is also a member of a global payment system and has over 20 money transfer agents in the U.S., Canada, Australia, France, Germany, Japan and Singapore.

Le Nguyen Hung, Manger of Customer Service of Eximbank, said the bank will establish a money transfer company, associated with enterprises to form payment agents, expand the market and look for new partners in France, Germany and Canada to boost its money transfer turnover.