The State Bank of Vietnam instructed credit institutions and its offices nationwide Monday to report on their implementation of the Government's subsidized lending program to enable authorities to monitor it.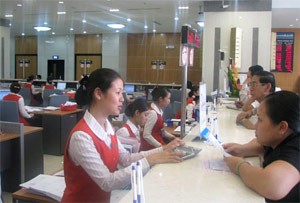 Transactions conducted at a Sacombank branch in HCMC
Most commercial banks have begun implementation the program under which the Government will pay 4 percent of the interest on loans taken by eligible individuals and enterprises for doing business.
 
Some banks are offering loans at an effective 1-2 percent rate to borrowers meeting a number of stringent conditions.
 
At VIB Bank, eligible exporters can obtain credit at 1 percent per year. The bank said it has earmarked VND25 trillion ($1.43 billion) for lending under the program.
 
Techcombank plans to lend VND50 trillion to manufacturers at 5-6 percent per year and at 1-2 percent to some exporters.
 
Luu Thi Anh Xuan, deputy head of the lender's corporate division, said the bank would try to help enterprises quickly get the subsidized loans.
 
HCM City-based Asia Commercial Bank said it would lend VND35 trillion at 2 percent to exporters and 5-5.5 percent to manufacturers.
 
Vietnam Develop Bank (VDB) became the latest financial institution to implement the program February 10.
 
Nguyen Quang Dung, its general director, said enterprises including co-operatives with a chartered capital of below VND20 billion (US$1.1 million) and fewer than 500 employees are eligible.
 
Vietinbank chairman Pham Huy Hung announced Monday his bank would allocate around VND100 trillion for loans to eligible borrowers at just 4 percent.
 
Sacombank said it would allocate VND25-30 trillion for the program. The interest rates for qualified exporters will be 1.5 to 2 percent and a minimum of 4.8 percent for other borrowers.
 
The State-owned Bank for Investment and Development of Vietnam was one of the first to offer loans at subsidized rates, allocating VND65-68 trillion for the program.
 
Officials at all the banks expressed their commitment to ensuring the lending is transparent and effective.  
 
Several said their institutions have set up special teams and procedures to monitor the loans and ensure they are used for the purposes stated in loan applications.
 
Lien Viet Bank and Ocean Bank are also participating in the program.
 
The Vietnam Association of Banks has asked the Government to add finance companies to the list of beneficiaries of the interest-subsidy program.
 
Only commercial banks and central People's Credit Funds are currently included.
 
There are 15 finance companies in the country with total outstanding short-term loans of VND15 trillion ($869 million).