More commercial banks have adopted the government's policy to provide four percent loan subsidies to export companies in an effort to stimulate investment, production and business.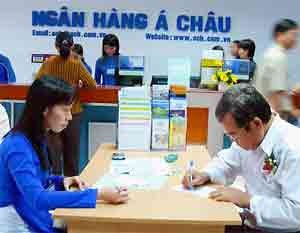 Transactions carried out at an Asia Commercial Bank  branch in Ho Chi Minh City (Photo: VTV)
On Saturday, the Vietnam International Bank (VIB) said that it will provide VND25 trillion (US$1.4 billion) in loan subsidies with the highest interest rate of 4 percent to export businesses.

Exporters who take out loans under the program, 'Export financing in dong with extremely preferential interest rates' launched by the bank, will enjoy the lowest lending rate of only one percent a year.

The bank announced that since early January, VND800 billion (US$45.9 million) has been used to give loan subsidies to coffee exporters.

Loans in foreign currencies will be offered to customers at rates between 3 - 3.5 percent.

The Lien Viet Bank announced the same day that it has issued its own guidelines on offering four percent loan subsidies to companies in accordance with the State Bank's policy.

Lien Viet will give subsidies to short-term loans in dong under credit contracts (less than 12 months) signed between February 1 and December 31, 2009.

In the fourth quarter of 2008, the Lien Viet Bank launched a program in which VND4 trillion was set aside for loans to small and medium size businesses. Till now, more than VND1 trillion has been allocated.