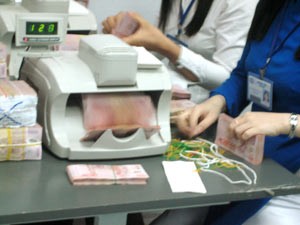 The banking before the demand to increase its chartered capital. (Photo: T.C)
The State Bank of Viet Nam (SBV), on June 17 at Rach Gia – Kien Giang, has just officially approved the transformation from rural to urban bank in which the Song Kien Rural Commerical Joint-stock Bank, from now on, will be called the Nam Viet Urban Joint-stock Commerical Bank (Navibank).
In order to implement the new business model, Navibank has conducted many refinements to improve its services quality and financial capability. The bank also expands its chartered capital from VND 3 billion to VND 350 billion as well as strengthens and establishes an internal risk management system to minimize operation risk.
With the goal to become a retail commercial bank, Navibank has successfully integrated into the core banking management system, Microbank. This system will help Navibank to centrally manage the bank's online database. Beside the traditional services as deposits and loans, Microbank system also allows Navibank to provide customers with the most safe and feature-rich banking products possible.
In 2006, the bank plans to increase its capital to VND 500 billion and develop its branch network in Ho Chi Minh City, Ha Noi, and Da Nang.
Upon the opening ceremony to operate under the new name, Navibank announces a donation of VND 200 million to the Poor Patient's Support Fund and Philanthropic House Building Fund of Kien Giang province.
Related Articles:
Anbinh Bank Converted to Urban Bank