From July 1 when the revised Housing Law takes effect, investors of housing projects must be guaranteed by banks to ensure they would hand over apartments to customers as per contracts. In case they fail to do so, the banks will compensate the house buyers.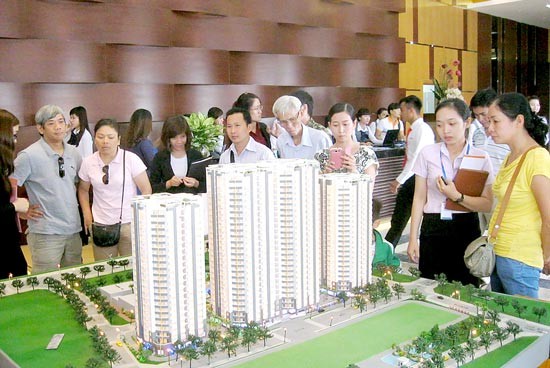 Customers learn about a real estate project in Ho Chi Minh City (Photo: SGGP)
That was revealed at a seminar on the implementation of the banking guarantee regulation to protect future house buyers' rights on Tuesday.
All commercial banks can act as guarantees for project investors except some who have been forced to restructure or taken over by the State Bank of Vietnam (SBV) at 0 Vietnamese dong, said Mr. Nguyen Hoang Minh, deputy director of the State bank's branch in Ho Chi Minh City.
The guarantee is for financial obligations not for projects. For instance, if a project is half-done or built behind schedule, commercial banks will refund the sum of money that customers have already paid investors in advance.
The service fee is not regulated by the State Bank. Commercial banks and investors can negotiate the fee level which is permitted at 0 dong.
In Ho Chi Minh City, the fee swings from 0.6-2 percent a year which will not increase apartment prices much.
Investors must make a deposit or mortgage another property to get banks' guarantee. Two sides can settle the deposit amount or property value depending on the investors' prestige and their project feasibility.
The new regulation is expected to minimize risks for house buyers and better the real estate market consumption, Mr. Minh said.
Some investors reveal that they have got bank guarantee for their projects. For instance, Vietnam Prosperity Bank has acted as a guarantee for four projects of Novaland Group and Vietnam Technological and Commercial Bank has stood security for Masteri project. Asia Commercial Bank, Housing Development Bank and Ocean Bank have answered for a Sacomreal project.