Viet Nam has made important progress integrating into the global economy, and its membership of the World Trade Organization is bringing many new opportunities to grow.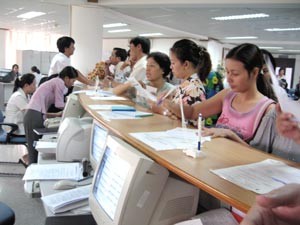 Investors put orders at the BIDV Securities Company (Photo:TC)
The investment environment is much improved and the clearer laws broaden Viet Nam's financial and banking policies to meet the requirements of integration.
The Enterprise and Investment Law, which went into effect in July, is an obvious advance in opening up the commodity market and the services sector, and in providing fresh opportunities for domestic and foreign companies generally.
The opening up of Viet Nam's economy has created many opportunities for investment from the major economies, investment that is increasing remarkably.
Most important to realizing Viet Nam's economic potential is the establishment of effective financial infrastructure.
The improvement of basic economic factors and policies will encourage the development of a capital market in Viet Nam.
Developing a financial market, say a capital or currency market, plays an important role in the growth of a country's economy.
Two areas in particular, the bond market and equitization, have a great impact on the stock market and create more investment options.
National development and integration into the regional and world economies promote the growth of a healthy domestic credit market and the competitive competence of exports.
In fact, Viet Nam's integration into the international capital market and banking system has made noticeable progress.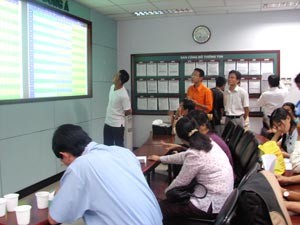 Finacial market attracts more and more investors (Photo:TC)
Banking is a real growth industry, influenced strongly by the equitization of state-owned banks. Now more attention must be paid to foreign banks, which have an important role to play in developing financial markets, and to the bad-debt situation, which threatens the stability of the credit system.
Viet Nam has worked hard to simplify the investment procedures for several categories of enterprise, and instituted a mass of reforms.
The reality demands more comprehensive efforts to build a banking system that can handle the fluctuations of capital capacity. The banking system has to employ the latest services to benefit investment and effectively maneuver capital capacities.
Viet Nam must do its best to develop dynamic capital markets. Credit infrastructure, a flawless information technology network, a reliable credit rating system and appropriate regulations are needed to develop corporate capital capacities and meet the demands of economic growth.
Faster equitization and subsequent listing of state-owned enterprises can be considered a commitment to promoting financial market development and enhancing investors' belief in Viet Nam.
Viet Nam is improving its laws; intensifying administrative reform, and anti-corruption and money laundering measures; creating a healthy financial system; maintaining stable growth; promoting enterprise management; developing human resources; restructuring economic areas and creating equality for all business sectors.
Because of its potential to become a dynamic economy, Viet Nam has attracted massive investment from abroad.
Ho Chi Minh City can do its bit by not passing up the opportunity to become a major financial center of Southeast Asia, one that can lure massive amounts of finance and banking investment from abroad and thereby help the country integrate into the regional and global economies.