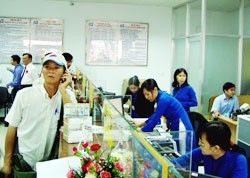 A customer deposits cash at a teller's desk in ACB Bank
Viet Nam's State Bank has announced interest rates for VND for March 2006. 
The basic rate is 8.25% per annum; the re-capitalization rate for credit institutions is 6.5% per annum; and the discount rate for them is 4.5% per annum. There are no changes in these rates from last month.
Meanwhile, the interest rates of VND at other banks have risen. Recently, the VND deposit rate of Vietcombank has increased. The one-month term interest is 6.96% per annum, increasing by 0.32% percentage points, the two-month rate is 7.2%, up 0.6 percentage points, the nine-month rate is 8.16% per annum, and the thirteen-month rate 7.56 % per annum, both increasing by 0.12 percentage points.