Since overseas Vietnamese began remitting money to their families in Viet Nam 17 years ago over US$29.4 billion has surfed the wires cross the Pacific.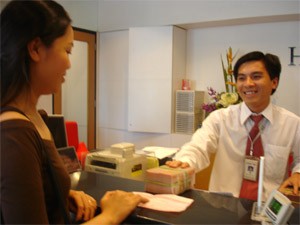 Receiving remittance at HSBC Bank (Photo: H.Y.)
Paralleling increasing foreign investment, remittances from overseas Vietnamese have continued climbing and are estimated to reach US$5.5 billion this year, a year-on-year increase of US$800 million, 157 times the amount received in 1991, when remittances through official money transfer services and banks began, average annual growth of 37 percent.

But the real number is much higher, for money is also transferred home "unofficially".

According to a New York Times study, total remittances form overseas Vietnamese to Viet Nam in 2006 amounted to US$6.82 billion, 2nd highest in Southeast Asia and 4th in Asia.

An official from the State Bank of Viet Nam has said overseas Vietnamese have traditionally sent money home to support their relatives and give them gifts for the lunar new year (Tet) holidays.

But nowadays they are also sending money for investing in the stock market and real estate through their families here, he added.

Another impetus to increasing inbound remittances these days is the nation's burgeoning overseas workforce. Less bureaucratic, more transparent government policies on transfers and local investment have also vastly helped boost such remittances.

The amount overseas Vietnamese actually invest in the country, however, remains small compared to all they send here. Though nearly US$30 billion has been sent to relatives in Viet Nam since 1991, total direct investment by overseas Vietnamese still amounts to only US$830 million.

At present, there are now over three million people of Vietnamese origin living abroad, with the largest overseas Vietnamese community being in the USA.