The Ministry of Public Security (MoPS) on Wednesday arrested Nguyen Xuan Long for allegedly spreading rumors on social networks that Vietnam would replace its current banknotes with new ones, the Vietnamplus reported.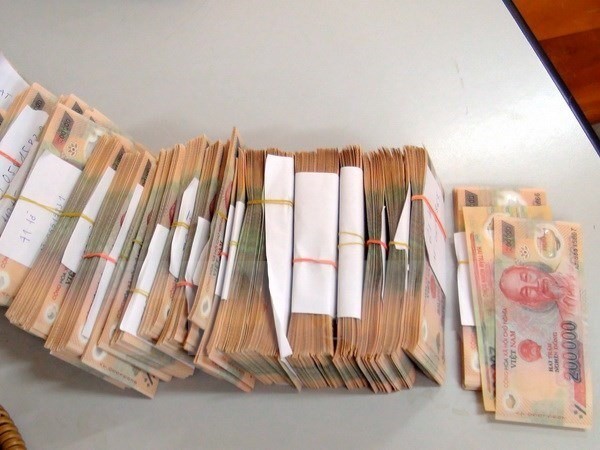 The Ministry of Public Security has arrested a suspect for spreading bank note change rumors on social networks. (Photo: VNS)
Long, 34, living at Dong Nai Province's Bien Hoa City, has used the nickname Mr Duck on his Facebook fanpage Vit Bau to post false information involved in replacing the current banknotes, images of new banknotes and claimed that the new banknotes would be printed in China then moved to Vietnam.
At the police office, Long allegedly admitted that his actions violated law and had a bad influence on society.
The MoPS investigators said the spread of false information had the wrong intention to cause a negative impact on Vietnam's economy and investment environment, strongly affected the nation's macro stability.
According to the ministry, the false information on replacing banknote started appearing on some social network websites since late October, but fanpage Vit Bau repeatedly fabricated information regarding Vietnam's banknote change, and urged people to withdraw money from banks to buy gold and foreign currency, together with defamatory and government-against comments.
After an investigation process, police have identified Facebook fanpage Vit Bau with three administrators, including Nguyen Xuan Long.
Long alledgedly confessed that Facebook fanpage was set up and firstly administrated by Nguyen Hang, a Vietnamese woman living in the US since 2015.
Last September, Long began joining administration to write, edit from other websites and upload stories and image on the Vit Bau fanpage. He used Facebook account Phong Tuan and nickname Mr Duck to upload average 10 stories a day on the fanpage. Immediately, the Deputy Governor of the State Bank of Vietnam Dao Minh Tu rejected the news, saying rumors of an upcoming demonetisation process by the Vietnamese central bank are false and groundless.
He called on people to be alert against false information as it could affect national monetary security, at a time when the country is enjoying stable economic conditions.

Prime Minister Nguyen Xuan Phuc directed the MoPS to trace the person who spread the false information of banknote change.
Further investigation is underway to find out other participants in the spread of false information on banknote change.