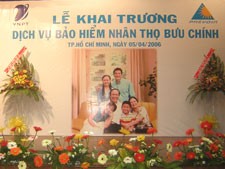 The opening ceremony of Postal Life Insurance service at April 5. (Photo: T.C)
The Postal Life Insurance (PLI) service has been officially introduced by Viet Nam Posts & Telecommunications Corporation (VNPT) and Prévoir Life Insurance Company Limited, a foreign-invested enterprise. The new life-policy product will be available at every post office nationwide and is intended to bring much benefit to policy holders, in saving as well as insuring.
Insurance buyers will have a high savings interest rate and can select appropriate covers for their family from VND20 million to VND100 million. They can also choose their initial premiums, cover terms, frequency of payments, cash surrender value, areas of coverage, and other policy conditions.
PLI clients have more advantages than those with other common insurance services, as it is provided through a vast network of more than 3,000 post offices in 64 provinces and can be accessed even in weekend.