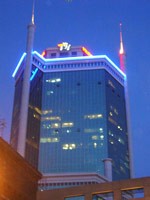 PPF launches representative office at Saigon Trade Center building. (Photo: T.C)
PPF, one of the leading financial groups in Czech Republic, opens its representative office at Saigon Trade Center building in Ho Chi Minh City.
The office will initiate the group's market research and look for investment opportunities with Vietnamese partners.
Viet Nam is the second country in Asia (after China) that PPF has set up its office. "PPF saw Viet Nam as one of the world's most promising markets, especially in financial services," said Zbynek Babor, the chief of PPF Viet Nam office.
PPF, founded in 1992, is a respected international financial group providing wide range of products and services such as mortgage loan, consumer credit, insurance, banking, asset management, and equity trading. Its assets currently valued at USD 10 billion. PPF has been operating successfully in Russia, Belarus, Slovakia Republic, and China.
According to some securities companies, PPF has eyed the Vietnamese market for more than one year. PPF's main targets are unlisted stocks and IPOs.