The State Bank of Viet Nam today raised the prime interest rate to 14% from 12% and various policy rates also up two percentage points.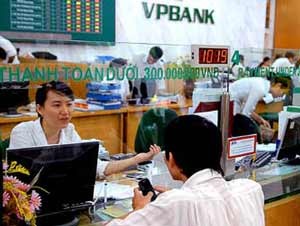 A transaction at VPBank
The central bank's new move allows the highest lending rate at commercial banks to climb from 18% to 21%. Commercial banks can set the top interest rate not higher than 1.5 times of the prime rate, meaning that it not be higher than 21% per year.
The central bank also increased the recapitalization rate to 15% from 13%, and the re-discount rate to 13% from 11%. The new rates take effect today.
The State Bank's decision aims to help fight inflation and ensure macro-economic stability, according to the bank.
Just before these changes came, Prime Minister Nguyen Tan Dung said the Vietnamese government was determined not to devalue the Vietnamese dong and ordered measures to be taken to put black market currency exchange under control.
The central bank also adjusted the official dollar/dong exchange rate up 2% to VND16,461 per USD for today. The trading band on the inter-bank market stays at 1%, meaning that the ceiling exchange rate can reach to VND16,626.
On Tuesday, the unofficial exchange rate in Ha Noi was VND17,500-17,700 per USD, while commercial banks quoted at VND16,300.