The State Bank of Vietnam (SBV) should continue its flexible monetary policy to help cut the trade deficit and restrain inflation, Prime Minister Nguyen Tan Dung has said.
The Prime Minister's main concern was ensuring that the country reaches its 6.5 percent GDP growth target for the year.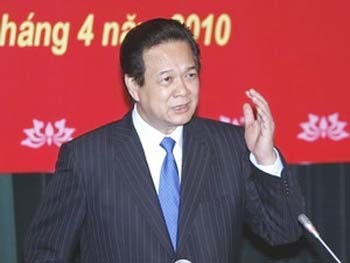 PM Nguyen Tan Dung speaks at a meeting with state bank leaders on April 20, encouraging the bank to maintain its flexible monetary policy (Photo: VNA) 
Working with the SBV leaders in Hanoi on April 20, Mr. Dung said he appreciated the central bank's contributions to achieving a GDP growth of 5.83 percent in the first quarter.
The central bank's efforts have helped reduce lending rates, stabilize exchange rates and boost capital mobilization at commercial banks, he said
However, the bank should try to lower the deposit interest rate to about 10 percent and the lending interest rate to 12-13 percent per year in order to boost exports and reduce the trade deficit, he said.
He also asked the bank to ensure credit growth at 25 percent and total means of payment growth at 20 percent while strengthening control over the foreign exchange market and the trade balance.
Cutting the trade deficit would also require banks to coordinate with the finance, and industry and trade ministries to control market prices and restrict the import of non-essential goods like cars, mobile phones and liquor, Mr. Dung said.
The Prime Minister added that the central bank should continue ensuring that credit organizations provide loans at negotiable interest rates. He also asked SBV to keep a close watch on foreign currency loans used for imports.
He instructed small commercial banks to increase their capital to at least VND3 trillion each or be merged.
Mr. Dung also said the bank needs to work harder to provide the public with prompt and official information, especially about financial and monetary policies, and prices.