On the occasion of the International Women's Day, March 8, the Viet Nam Export Import Commercial Joint-Stock Bank (Eximbank) launches a program called "Rose Message" from March 1 to April 15, 2006 to honor all women in the country.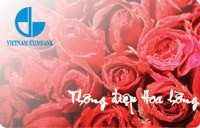 Eximbank's Rose Message card. (Photo: T.C.)
The Eximbank issues Rose Message cards, which are decorated with rose background. They will be an ideal way for men to show their generosity. This latest marketing approach of Rose Message cards goes together with Eximbank-Visa Debit cards. Purchasing a Rose Message card at any value, the minimum value being VND300,000 (nearly US$20), customers will be issued an Eximbank-Visa Debit card of the same value. 
The Eximbank-Visa Debit card is used to make payments or withdraw money at ATM machine worldwide. After the given money is used up, card holders can continue to deposit more money into the account. 
The Rose Message card is used as a preferential and gift card at shops which are Eximbank's agents or have the logo "Rose Message".