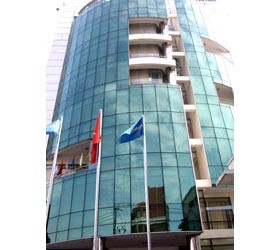 Headquarter of the Sacombank-LC in District 3 (Photo:T.C)
The State Bank of Viet Nam has recently given a green light for the Sai Gon Commercial Joint Stock Commercial Bank (Sacombank) to set up a financial leasing company, namely Sacombank-LC.
Headquartered at 278 Nam Ky Khoi Nghia Street in District 3, the Sacombank Leasing Company (Sacombank-LC) has a registered capital of VND100 billion and an operation time of 50 years.
The company is allowed to mobilize capital via issuing over one year-term deposits, getting loans from local and international credit organizations, issuing treasury bills, deposits certificates and over one year-term bonds.
Also, the company's major operations involves in financial leasing, consulting, guarantee services, and property management.
Sacombank has a chartered capital of VND1.25 trillion, making it the country's largest commercial shareholding bank in terms of chartered capital.