A pact signed on October 1 has officially sealed a merger deal between Sacombank and Southern Bank.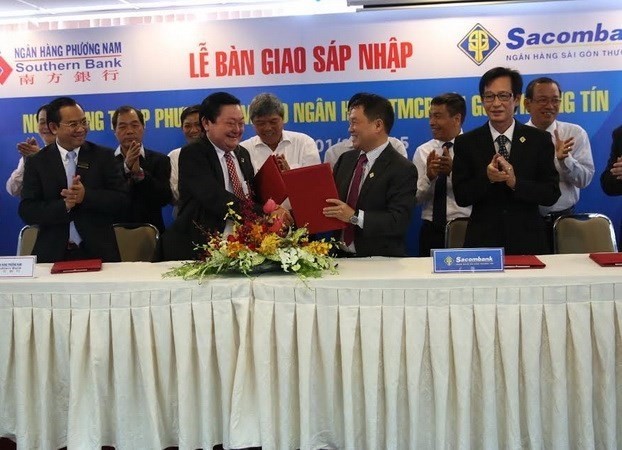 During the signing ceremony -VNA
As such, Sacombank will soon take over Southern Bank's assets, staff, data and customer system as approved under Decision 1844/QD-NHNN issued on September 14.
The new bank will retain the Sacombank name with total assets of 290.8 trillion VND (13 billion USD) and total equity of 22.6 trillion VND (1 billion USD). It will have 567 offices in Vietnam, Laos and Cambodia, employing 15,510 people.
However, Tram Be, Vice Chairman of Sacombank's Board of Directors, will not be a part of the new bank's board. The State Bank of Vietnam (SBV) will take over the stakes in the Southern Bank, currently Sacombank, and the new Sacombank from Be and his relatives and appoint the central bank's officials to run the new bank after the merger.
Speaking at the signing ceremony, SBV Deputy Head Nguyen Phuoc Thanh underscored the merger is part of banking restructuring to form a healthier financial conglomerate that can gain a firm foothold in the highly competitive global market .
The new Sacombank will be the largest bank of the joint stock sector, declared Thanh.
Kieu Huu Dung, Chairman of Sacombank's Board of Directors, said joining the two banks together is expected to underpin overall performance, benefiting involved sides including stakeholders, customers and the Government.
Previously, an unwonted shareholders meeting on July 11 decided that one Southern Bank stock is equivalent to 0.75 Sacombank stock.
On September 21, the SBV passed a document to increase Sacombank's chartered capital to 18.853 trillion VND (838.2 million USD) from 12.425 trillion VND (552.4 million USD).-VNA