The Sai Gon Thuong Tin Joint Stock Commercial Bank (Sacombank) has just announced it will raise its chartered capital for the first time in 2006, from VND 1,250 billion to approximately VND 1,900 billion.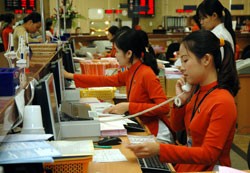 Sacombank staff dealing with customers (Photo: Viet Dung)
With this increase of more than 50%, Sacombank continues to be Viet Nam's largest joint-stock commercial bank in terms of capital size.
This is the warm-up step in the plan to increase Sacombank's registered capital from VND 1,250 billion to VND 2,420 billion in the fiscal year of 2006, which has been approved by the board.
Sacombank currently has 3 big foreign shareholders, International Finance Company (IFC) – a World Bank's affiliate, Dragon Capital Holdings (DC) – an England-base financial group and ANZ – an Australian and New Zealand banking group.
In 2005, Sacombank's earnings reached VND 336.1 billion, upped 57.5% compared to that of 2004.
Earlier, Sacombank has submited its application to the State Securities Commission (SSC) and is currently completing procedure to be listed on Ho Chi Minh City Securities Trading Center (HSTC) in June 2006.
Related Article:
How to Cool the Market?