Last yearend was the deadline for banks to register transaction on the official unlisted market UpCoM. However only 10 out of 35 joint stock commercial banks have been listed, the remaining ones will have to speed up the bourse listing unless being penalized or restructured.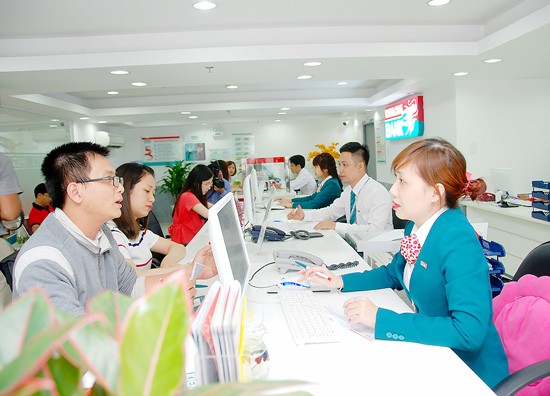 Kien Long Bank has been granted a stock code and expected to list on the stock market in 2017 (Photo: SGGP)
Circular 180/2015 by the Ministry of Finance requires all banks that have been equitized but yet to list on the stock market to register transactions on UpCoM by the end of 2016. 
So far only 10 out of 35 banks have listed on Hanoi and HCMC Stock Exchanges including VietinBank, Vietcombank, BIDV, Eximbank, Sacombank, MBbank, SHB and ACB. 
The number of unlisted is as high as 25. For the last three years, State Securities Commission have sent many documents asking the State Bank of Vietnam's branches in localities to supervise and urge banks to make their operation transparent by carrying out the circular. 
Many banks have been rushing to implement the regulation. In December, three were permitted to list on UpCoM including KienLong Bank with 300 million shares worth VND3 trillion, Techcombank with nearly 888 million shares worth VND8.88 trillion and VIB with 546.44 million shares. 
In a shareholder meeting last year, Phuong Dong Bank (OCB) passed a statement not to register in UpCoM but HCMC Stock Exchange for better liquidity. The management board of the bank has been authorized to choose a suitable time for the bourse listing. 
Vietnam Prosperity Bank (VPBank) in December informed their shareholders of a plan to register with Vietnam Securities Depository (VSD) to deposit their shares. 
Some banks have planned bourse listing but yet to make any move, explaining that the lateness was because the time was unfavorable and banking shares had no longer been attractive as before so they feared share prices to reduce after listing. 
According to experts, the real reason for banks not to list on bourses is from the requirement of transparence in their operations and publicity of their financial reports. 
Some banks have yielded low profit and suffered high deep debts so they don't want to publicize this information to prevent it from affecting their trading activities. 
However banks will speed up the bourse listing in the upcoming time to avoid penalties of VND10-40 million for not carrying out the circular, experts forecast. 
Besides, it is urgent for banks to increase capital to ensure capital adequacy ratio (CAR) guarantee in accordance with revised international capital framework Basel II. Therefore they might speed up the listing to raise funds, especially those chosen to pilot the implementation of Basel II this year namely VPBank, MaritimeBank, VIB and Techcombank. 
Securities companies said that this year credit institutions with good management, asset quality and growth prospects such as OCB and HDBank would count the bourse listing. Those not to do so will be likely to be restructured. 
In addition, Vietnam's stock market is estimated to be positive amid stable economic growth, well curbed interest rate and inflation and no exchange rate fluctuations. The VN-Index has well grown creating a motive for banks to list on the stock market.