The US dollar has risen on the free market, sometimes to as high as VND18,000-18,300, while it is hard for importers to buy the greenback from banks.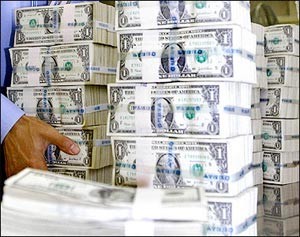 The US dollar has risen on the free market, while it is hard for importers to buy the greenback from banks
Ho Huu Hanh, head of the central bank's Ho Chi Minh City branch, told Sai Gon Giai Phong that to maintain a balance between supply and demand, the central bank sells dollars only to importers of essential products like fuel, drugs, steel, and fertilizers.
It does not sell to importers of consumer goods, he added, while commercial banks too have to ensure a balance to serve their clients.
Following the central bank's recent widening of the exchange rate band to 5 percent from 3 percent, there is a perception that the dollar will strengthen that exporters do not want to sell the currency, putting banks in a tight spot.
With the demand high but banks not having dollars to sell, traders on the free market have taken advantage.
But the central bank is trying to keep tightly control of unofficial foreign exchange trading.
It had earlier licensed 500 agencies to trade in foreign exchange but only 79 this year.
Mr. Hanh said, however, it is not profitable to hold on to dollars because banks are offering 7-8 percent interest on dong deposits and only 2 percent on the dollar that if the US currency does not appreciate, or if it depreciates, people would lose.
Banks are bleeding because of dollar deposits since they are unable to lend the greenback in the absence of demand.
Though lending interest rates on dollars are low, businesses do not want to borrow because they are afraid of the exchange rate risk.
Besides, the Government does not provide the interest rate subsidy to importers that it does to other businesses because of which they have switched to borrowing dong or gold rather than the greenback.
But Mr. Hanh said with the interest rate subsidy scheme expiring in December, enterprises might switch back to borrowing dollars instead of dongs, enabling banks to cut the losses they make by holding dollar deposits.
Exporters want the dollar to appreciate but it is more likely to fall in the long term and they need to tweak their business strategies to cope.
With global demand for goods and services hit by the downturn, devaluing the dong to stimulate exports is unlikely to work.
And, the downside of such devaluation is that it places a huge burden on firms' and nations' foreign debts.
Besides, raw materials and feedstock that have to be imported to make goods for exports will become more expensive.