The economy's credit growth rate reached 6.82 percent by the end of June compared to last December, higher than the rate of 6.37 percent during the same period last year, reported the State Bank of Vietnam (SBV).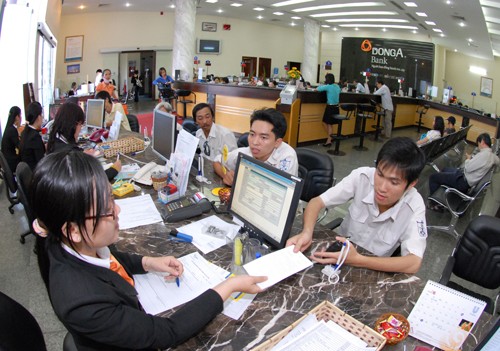 Transactions at Dong A Bank (Photo: SGGP)
Of these, credit growth for the Vietnamese dong was up 8.11 percent compared to last yearend and 22.95 percent over the same period last year and accounting for 90.8 percent of the economy's total credit. It reduced 4.64 percent over December for foreign currencies.
Head of SBV Credit Department Nguyen Tien Dong said that the credit growth trend suits macroeconomic development conditions, SBV's management orientations amid improving production and trading and the Government's policy to limit dollarization.
Credit structure moved positively, concentrating on five priority fields and assisting agricultural restructuring, seafood development, support industry, export businesses, hi tech applied firms and especially small and medium enterprises (SMEs).
For the first six months this year, the banking industry loaned SMEs a total of VND1,030 trillion (US$46.34 billion), up 2.62 percent over the end of 2015 and accounting for 20.1 percent of the country's loan outstanding.
The loan outstanding was estimated to hit VND886 trillion for agricultural and rural development by credit institutions excluding Vietnam Bank for Social Policies and Vietnam Development Bank. The number surged 4.98 percent over the end of 2015 and made up 18 percent of the country's loan outstanding.
Loans for exports went up 5.53 percent versus the end of last year and held 3.41 percent of the country's total loan outstanding. The rate were 2.37 percent and 2.26 percent to priority industries, 1.45 percent and 0.53 percent to hi tech firms.
According to SBV's orientation, credit growth will increase 18-20 percent this year. The rate will be adjusted to suit practical situation for economic growth norms set by the National Assembly.