Viet Nam's Export Import Bank (Eximbank) and the Saigon Jewelry Company (SJC), a major gold supplier in the country, have sought to reduce heat of the current gold fever.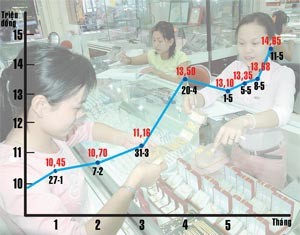 Gold price in Viet Nam illustrated by a chart
SJC general director Nguyen Thanh Long said his company does not cut supply to earn more profit from higher prices. He added no gold providers dare to hold back supply at this moment, which is very risky.
According to him, SJC allocates 30% of its total output to its 60 outlets, 40% to its strategic customers (banks and gold trading businesses) and the rest directly to other buyers. But the market demand always exceeds SJC's supply these days.
He added his company has decided to increase the amount of gold sold directly to other buyers.
Meanwhile, Eximbank has launched a new gold-related service, said Eximbank deputy general director Dao Hong Chau. The bank sells gold at the world price, not the domestic, plus some fees, and buyers pay with Vietnamese dong.
He said the buying price is VND100,000-200,000 per tael lower than the domestic price because it is not influenced by the domestic price, which is now VND200,000-400,000 per tael higher than the world price.
For one week, the Eximbank Headquarters in Ho Chi Minh City's District 1 has sold almost 8,000 taels to more than 300 buyers, Mr. Chau said.
In the world market, gold price has exceeded US$700 per ounce and market analysts are looking at the level of US$800. Some others even suggest the figure of US$1,000.
In Viet Nam in recent days, people have rushed to buy gold lest the gold price will keep soaring. A 25-year record high was reached on May 11, 2006: VND14.65 million per tael of SJC gold. The same day, the world price soared to US$710 per ounce, the highest for the past 26 years.
A fact in the world market was, that in 1980, the world price dropped from US$850 per ounce to US$620 overnight, and to US$500 a few days later.