Many small banks have been found offering higher interest rates than the capped limit of 14 percent per annum, despite warnings of stiff penalties by the State Bank.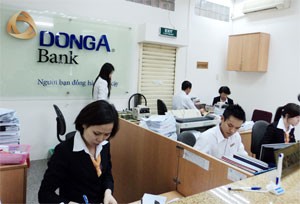 The ceiling rate of 14 percent has weakened small lenders, who already have a weak financial base and low management capability, say economists (Photo: Minh Tri)
This has triggered the question whether small banks are under pressure to mobilize funds to survive fierce competition from larger banks.
The interbank interest rate increased sharply after the State Bank of Vietnam announced a cap on the interest rate of 14 percent per annum.
Analysts say lenders with larger capital are setting higher rates on loans for the interbank market to cash in, while smaller banks are in dire need of more funds to improve low liquidity.
Statistics show the overnight interbank rate amounts to 13-13.5 percent, while one-week and one-month rate is 14.3-14.5 percent and 15.7-16.3 percent respectively.
"Small banks will have to cope with fierce competition from their larger counterparts," said a financial expert.
"Depositors will favor large-cap banks if all lenders offer the same interest rate, forcing small banks to find ways to mobilize funds at any cost."
Officials from the state bank said in a meeting that they considered setting up a group of 12 large banks, which would hold 85 percent of the financial market.
The move will likely put 30 remaining banks [most of them small lenders] at risk of "being abandoned".
The Vietnam Association of Financial Investors has officially asked finance officials to reduce 20 percent of the total amount of commercial banks through mergers and acquisitions.
Economist Le Tham Duong from the Banking University of Ho Chi Minh City said the ceiling rate of 14 percent weakened small lenders, who already have weak financial base and low management capability.
Most banks raised their registered capital of VND3 trillion (US$143 million) in accordance with the state bank directive.
Commercial banks will have to boost their registered capital to VND5 trillion by 2012 and VND10,000 trillion by 2015.
"The requirement for raising capital in such short periods during the economic meltdown will lead to small banks being acquired," Duong noticed.