In what must be the Ponzi scheme to beat all Ponzi schemes, an outfit called Colony Investment Management has suckered in thousands of well-heeled Vietnamese people by claiming it can return up to three percent interest a day on any amount you care to hand over to them.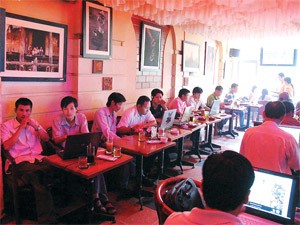 Colony members usually gather to chat and do their transactions at the Cat Dang coffee shop in Tan Dinh Ward, District 1
Colony's online advertisement features prominently on investment websites. "If you invest US$100 with us, you will earn US$250, and US$3,000 if you deposit US$1,000 after 100 days", the ad goes.
This three percent daily interest works out to 90 percent or so a month, and that's without compounding. At that rate, it shouldn't take long to accrue all the money in the world.
A Ho Chi Minh City resident described as a "senior Colony investor" told Sai Gon Giai Phong that Colony "members" can make heaps by depositing their money or "developing the investor network" through the website
www.colonyinvest.net
.
There are three interest rates: 2.5 percent daily for a deposit of US$100-499, 2.8 percent for US$500-999, and 3 percent for US$1,000-10,000.
"If we introduce three new investors, we will get 10 percent commission on each investor's money, 12 percent if we introduce four to six investors, and 15 percent for seven or more."
The walking advertisement said all the transactions, commissions, bonuses and interest were done and withdrawn online and were not subject to any fees.
So where do the fabulous profits come from to pay out such a high return?, this perplexed reporter wanted to know.
"Colony's financial experts help investors manage their money. Its professionals invest the money in super-profitable sectors, so 40 percent is in casinos, 40 percent in the forex market, and 20 percent in high-tech and blue chip projects," the man responded.
He gave as example Las Vegas Sands, which owns and operates the world's biggest casinos and resorts and is currently engaged in many large projects for which it needs money in a big way.
This begged the question: "Why does Colony borrow at such a high rate of interest when the banks charge only 5-9 percent per year?"
He shuffled his feet and looked embarrassed as he ventured the lame answer: "Maybe the borrowing procedures are complicated."
Another Colony investor, who became a "member" three months ago, seems to be a very trusting soul indeed. "I put my money into Colony because of the high profits they advertise. Frankly, I don't know anything about it."
A Ponzi scheme is a very common scam named after Charles Ponzi, the nefarious American who dreamed up the idea. It involves conning gullible people with the promise of unrealistic profits and paying out the dividends to the older investors with the fresh money from new investors.
Eventually the number of investors reaches saturation point and it becomes time for the con artists to high tail it out of there with their ill-gotten gains. Since the investors don't know the identities of the culprits, they never get their money back.
Colony Investment Management is not the only Ponzi practitioner in Vietnam. Other websites that engage in this kind of fraud are
www.tuoitrehanhdong.com
. and
www.nangdong.no-ip.org
.