UK-based Standard Chartered Bank on June 7 opened the Ho Chi Minh City Branch, its second branch in Viet Nam. The new branch is located on the second floor of the Saigon Trade Centre building, 37 Ton Duc Thang Street, District 1.
Among the participants at the opening ceremony were British Prince Andrew, the Duke of York, Ho Chi Minh City Mayor Le Thanh Hai, and State Bank of Viet Nam Governor Le Duc Thuy.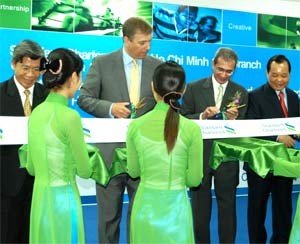 (From L) Mr. Thuy, British Prince Andrew, Mr. Nargolwala, the bank's group executive director, and Mr. Hai cut the ribbon to open the branch. (Photo: Tuong Thuy)
Standard Chartered Bank in Viet Nam provides corporate banking products and services, including lending, cash management, trade financing, foreign exchange and treasury services. The bank is also involved in the building of Viet Nam's infrastructure through project financing for Phu My 3 Power Plant and a mining project in Thai Nguyen Province.
At the ceremony, Prince Andrew presented a VND500 million check of the bank to the Ho Chi Minh City Sponsoring Association for Poor Patients. The association will use this funding for sight restorations on the blind.