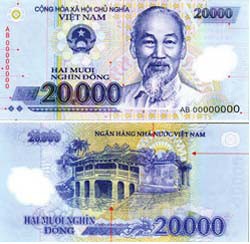 SBV has just issued new VND20,000 polymer note
The State Bank of Viet Nam (SBV) affirmed on May 18 that it has not received any report about the shortage of low-value banknotes, despite of information that there are not enough.
The State Bank said its supply of banknotes and coins is under control, and has put into use an additional VND545 billion in form of banknotes and coins with value ranging from VND50,000 to lower.
The bank has asked credit institutions and the State Treasury to deliver a large quantity of low-value banknotes and coins to customers, and is supervising the situation regularly to prevent speculation of low-value banknotes.