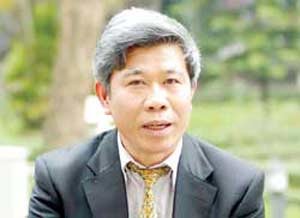 Governor of the State Bank of Viet Nam (SBV) Le Duc Thuy
The State Bank of Viet Nam is doubling up its efforts to put an end to the laundering of dirty money in the stock market and banking sector, a senior official told a Sai Gon Giai Phong reporter yesterday.
Addressing concerns that some investors may have been laundering money via the stock market or by establishing new banks, the Governor of the State Bank of Viet Nam (SBV), Le Duc Thuy, said it was not illegal for people to profit by investing money in the stock market.
So far, the SBV has received over ten applications for establishing commercial joint stock banks, he said. Local commercial joint-stock banks have also merged with larger companies to increase their capital in order to become commercial joint stock banks, and banks that are under the 'special control' of the SBV are seeking to expand their operations.
He said the central bank has been instructed to draft a set of regulations for the establishment of new banks to be submitted to the Prime Minister later this month.
According to Mr. Thuy, the central bank's major task at the moment is to conduct surveillance in order to prevent money laundering and illegal money transfers. While waiting for the new regulations to become effective, the bank has carried out some temporary measures such as limiting the services of certain banks that have committed violations or, in some cases, closing or merging them with other banks.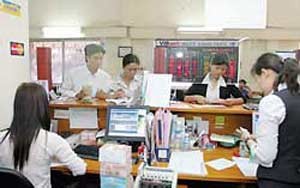 Transactions at the Vietnam International Joint Stock Bank in HCMC
He also noted that some individuals that have been borrowing money on the pretense that they were starting a business have in fact been investing the money in the stock market.
"It is very difficult for authorities to assess macro-economic factors and manage finances with the previous set of regulations. Formerly, the responsibility belonged to credit institutions to do their best to verify what loans were used for. The central bank was also responsible to oversee this process and apprehend people found to be defrauding the system," said Mr. Thuy.
Talking about the possible establishment of foreign banks in Viet Nam, Mr. Thuy said the bank has received about eight applications. Under WTO agreements Viet Nam has signed with other countries, it has to lift a ban on wholly foreign banks from April 1, 2007. As per the regulations of the central bank, international financial institutions wanting to set up branches in Viet Nam must have at least US$10 billion in assets.
Stock Market Remains Unstable
After falling for seven successive days, the Ho Chi Minh City index rebounded this morning closing at 36.92 points to 1068.71, or 3.58% higher than the previous session.
All but four of the 110 companies listed on the Ho Chi Minh City Securities Trading Center saw share prices increase, while three remained unchanged (HTV, PVD, SGH) and one (LCG) went down.
On Wednesday, total demand on the Ho Chi Minh City bourse soared by 82% over the previous session at 13.2 million shares while offers fell by 28% to 12.9 million shares.
The market's total trading volume yesterday rose by 2.1 million shares to 8.6 million shares (VND962 billion or US$60 million), up VND141 billion over the previous session.
Market analysts are predicting that the market will maintain a downward trend for the long-term. Yesterday local investors increased their portfolios while foreign investors were net sellers with a trading volume of 1.3 million shares worth VND139 billion.