The Asia Commercial Bank (ACB) has been awarded "the Best Retail Bank of the Year 2005, Viet Nam" by The Asian Banker, one of the most prestigious financial and banking magazines in the world.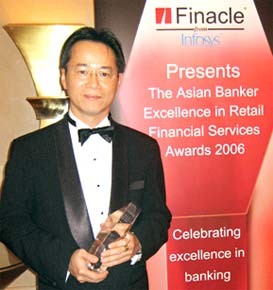 Mr. Hai gets the award. (Photo: Courtesy of ACB)
ACB Chief Executive Officer Ly Xuan Hai received the award at the 2nd Asia Pacific heads of retail financial services annual meeting in Hong Kong on June 9.

The Asian Banker selected ACB for the award in high appraisal of the value of brand name, financial outcomes, transparency in development strategy, capacity of risk management, initiation of new banking products, and proper investment in human resource training.
According to The Asian Banker, five Vietnamese banks had applied for the award and ACB won the title. In all, the magazine selected 27 banks in the Asia-Pacific region for the title. Its selection was also based on a brand report by ACNielsen, a leading market research company.
With the target of becoming the leading retail bank in Viet Nam, ACB has constantly developed its products and services and expanded its operations throughout Viet Nam to meet the demands of its customers over the past years.
ACB reported its pre-tax profits in the first five months of 2006 at VND230 billion (US$14.3 million).
Last year, the Financial Times' The Banker magazine picked ACB as Viet Nam's Bank of the Year 2005 for strong growth rates in capital and profits as well as its successful application of the economic value added strategy and advanced technologies.  
Links
The Asian Banker
ACB Bank