The Federal Reserve System (FED) has continued raising interest rates by 0.25 percentage points and predicted to further the rate increase this year, putting pressure on the VND to USD exchange rate.

In 2016 and early 2017, the world's financial market saw strong fluctuations after the United Kingdom's withdrawal from the European Union (Brexit), the US presidential election, new policies by President Donald Trump and FED's benchmark rate increases.
In the domestic market, foreign currency supply and demand was not advantageous and trade deficit was on large trend. USD price raise tendency in the world market resulted in speculations. These all raised difficulties for the State Bank of Vietnam (SBV) in exchange rate management.
SVB has applied flexible rate management methods in combination with other monetary policies including the 0 percent interest rate on US dollar deposits. The VND to USD exchange rate moved up about 1.1-1.2 percent on average.
The domestic forex market was much stable than many markets in the world. The central bank has purchased a large amount of foreign currency, increasing the official reserve to the highest level so far and gained initial purposes in anti-dollarization.
At present, the US is managing benchmark interest rates at 1-1.25 percent a year. Meanwhile, SBV has applied the 0 percent rate on US dollar deposits for over a year. Experts said that the policy has no longer suited with the world's market trend and not ensured foreign currency attraction for the economy.
They said that the policy has showed its wrong side unsuitable with the market. The most concern is foreign currency drains and overseas remittance reduction.
Leaders of Saigon Securities Corporation (SSI) said that the 0 percent rate was the right policy to reduce dollarization, rise US dollar supply and stabilize exchange rate. When FED rate was low, the policy did not show its wrong side.
FED has now continued increasing interest rates, expanding the interest difference in Vietnam and the world market. That has reduced the demand of keeping or transferring money in or to the country.
Statistics by SBV branch in HCMC showed that the volume of overseas remittance to the city in 2016 approximated US$500 million, lower than in 2015. The sharpest reduction was from the US where accounts for 60 percent of the total amount of funds remitted to Vietnam.
Leaders of a commercial bank in the city said that overseas remittance trading opportunities were not as expected for the last one year with many reasons comprising the 0 percent rate. A large amount of foreign currency has been transferred aboard.
0.25-0.5 percent increase needed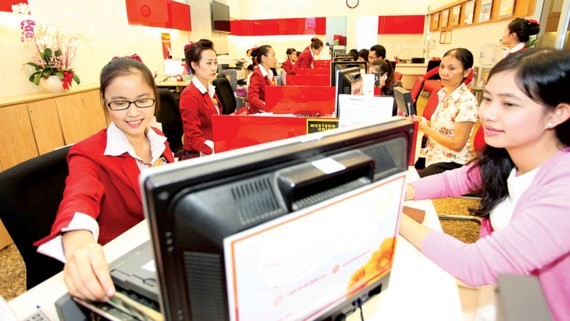 Transactions at a HD Bank in HCMC (Photo: SGGP)
Besides foreign direct investment and official development assistance funds, overseas remittance has been a large foreign currency supply source for socioeconomic development. It has directly affected the forex market as well as monetary policies and partly influenced long term development strategy of Vietnam's financial banking system.
Therefore, economic experts said that SBV should apply suitable interest rate management policies to attract foreign currency to the country.
Despite the unattractive rate, foreign currency mobilization at banks has been around 10 percent in their deposit structure. This showed that residents have still been in demand of holding foreign currency. For the last past, many people have withdrawn US dollar savings to keep at home because of no reward rate.
At the cabinet meeting in May, Prime Minister Nguyen Xuan Phuc once again tasked the State Bank of Vietnam to consider and study an appropriate mobilization method of gold and foreign currency sources from local residents for economic development.
Experts claimed that in short term, the dollar rate should be increased to draw idle capital from residents back to the banking system. The hike will make the US dollar supply more abundant and reduce the pressure on the exchange rate.
Once the supply is higher, banks can reduce dollar loan interest rates creating a new lending channel. From that, dong interest rates will also move down.
Dr. Nguyen Van Thuan from Finance University said that dollar rate should be lifted up by 0.25-0.5 percent to ensure flexible exchange rates because the core of Vietnam's foreign currency market is not really US dollar interest rates.
If FED hikes rates to 1.5-2 percent in the upcoming time, the exchange rate of countries with large trade relations with Vietnam will fluctuate. So the VND to USD rate should be adjusted in line with inflation, export import turnover and public debt.