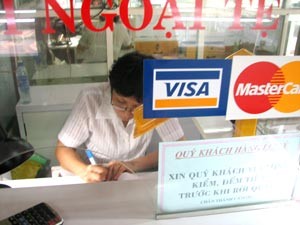 Foreign currency exchange at Vietcombank. (Photo: T.C)
As expected by experts, in May 10, the US dollar exchange rate in Ha Noi market was down VND 400-500 compared to that of the previous day. To the end of the evening, dollars were traded at VND16,400-16,500 at some large centers.
Meanwhile, the price offered by Vietcombank Ha Noi remained VND 15,997. It was recorded that people did not flock to buy dollars as they had done the day before. According to experts, the announcememnt of the State Bank that it would sell dollars to commercial banks helped calm down the market.
On the contrary, gold price was sharply up again to keep up with the global price. With a sharp increase exceeding USD 700/ounce, the global price pulled the domestic price back to the record of VND14,000,000 a tael. In Ha Noi, Bao Tin-Minh Chau 9999 gold was traded at VND14,100,000 a tael in the morning and VND13,900,000 in the evening, while Agricultural and Rural Development Bank Jewlery Company was trading at VND13,930,000 a tael. In other stores, gold price was fluctuating around VND14,000,000.