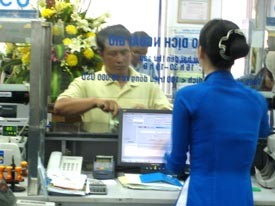 Despite an unusual increase in exchange rate, commercial banks still have to assure the supply of US dollars to those in need. (Photo: T.C.)
The exchange rate of Viet Nam dong against US dollar on the market in Ha Noi suddenly went over VND17,000 on May 9, 2006.
In some big exchange centers, the rate is from VND17,100 to 17,200 against USD, even to VND17,500 at Dinh Le "money-market". However, it started to cool down towards the end of the morning.
"The unusual increase of US dollar exchange rate for the past 2 days was caused by speculation.
Therefore the market will have positive corrections when people are well-informed," said Mr. Truong Van Phuoc, head of the Foreign Exchange Management Department of the State Bank of Viet Nam.
On May 10, Governor of the State Bank is expected to officially instruct commercial banks to assure the supply of foreign currencies to businesses who have demand, added Mr. Phuoc.
Particularly the State Bank will satisfy the foreign currency demand of commercial banks and jewelry companies to import gold from foreign countries, while avoiding a situation that people can sell foreign currencies to commercial banks but cannot buy it back when they need it and have to turn to the black market.
In addition, the State Bank forbids commercial banks and currency-trading institutes from speculating on foreign currencies, creating a false shortage of foreign currencies in the market to jack up price and pocket the profits.