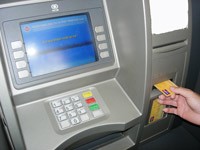 VID Public Bank will build ATM network. (Photo: T.C)
VID Public Bank has been approved by the State Bank of Viet Nam (SBV) to issue domestic bank cards. The bank was founded in May 1992 by Bank for Investment and Development of Viet Nam (BIDV) and Malaysia-based Public Bank Berhard.
The bank will build its ATM network at every branch nation-wide to meet customers' payment needs, especially those in industrial zones and export processing zones.
The cards to be issued are 'hybrid' cards (magnetic stripe and integrated circuit chip), allowing customers to check the balance, withdraw or deposit cash and change their PIN number. The bank also planned to connect its ATM network with Vietcombank's.
VID Public Bank's ATM system will face few difficulties as Public Bank Berhard, one of its founders, are experienced in establishing and operating ATM network, according to SBV.
With the participation of VID Public Bank, Viet Nam card market now has 18 providers, 1,300 ATMs nation-wide and 2 million cards issued.