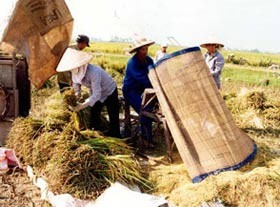 The bank will offer financial assistance for export industries, including rice export.
Viet Nam plans to set up the Viet Nam Development Bank (VDB), a state financial institute formed by restructuring the existing Development Assistance Fund (DAF), announced the Ministry of Finance recently.
With the charted capital worth VND5 trillion, the VDB will mobilize capitals from many foreign and domestic investment funds, provide credit insurance facility and financial assistance for local productions of goods, services and export industries.
Projects on industrial development and products encouraged for export by the Government will be able to get loans with the preferential interest rate, which is equivalent to the interest rate of the government five-year term bonds plus 1% annually.
Meanwhile, projects on the infrastructure construction to develop the socio-economy of agriculture and rural areas will receive loans with an interest rate equal to that of the government five-year term bonds.