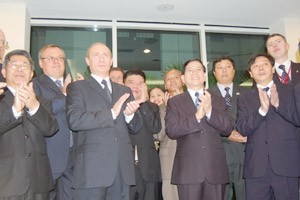 Vietnamese President Nguyen Minh Triet (4th,R)and Russian President V.Putin (3rd,L) visit the Viet Nam-Russia Joint Venture Bank in Ha Noi on Nov. 19, 2006
The Viet Nam Banking Association (VBA) and the Association of Russian Banks (ARB) signed a memorandum of understanding to boost bilateral cooperation, in Moscow on November 28.
Signatories were VBA President Pham Huy Hung and ARB Deputy President Anatoly Mozel.
Under the pact, the two sides will exchange information on banking regulations and financial and banking policies of the two countries in order to create favourable conditions for the establishment of joint ventures and facilitate investors from both countries.
The two sides will also boost cooperation in fighting money laundry and other international financial crimes.
Last year, the Bank for Investment and Development of Viet Nam (BIDV) and the Russian Bank for Foreign Trade set up Viet Nam- Russia Joint Venture bank in which BIDV will hold a 51 percent stake.
A contract to this effect was signed in Moscow, Russia, on Aug. 31, 2006 in the presence of Deputy Director of the Vietnamese Government Office Nguyen Quoc Huy and Deputy Governor of the Central Bank of the Russian Federation Viktor Nikolaevich Melnikov.
The new bank has opened branches in Viet Nam and a number of countries which have economic relationship with both Viet Nam and Russia. The bank provides a fast and convenient payment channel for Vietnamese and Russian businesses.