The State Bank of Viet Nam (SBV) has allowed its Credit Information Center (CIC) to begin providing business credit rating services. Accordingly, CIC will analyze and rate business credits in order to improve risk management within the banking system and properly assess the financial situations of enterprises.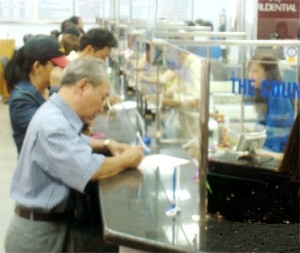 Here will be a credible and official credit rating agency to assess credit for enterprises. (Photo: Hoang Yen)
CIC will be the first institution in Viet Nam operating in the field of credit rating. CIC will therefore assess credit for businesses in all sectors, including state-owned enterprises, limited liability companies, joint stock enterprises, private enterprises, foreign invested companies and partnerships.
According to Decision 1253, signed by Deputy Governor of the SBV Tran Minh Tuan, CIC is allowed to provide information regarding enterprises' credit assessing and rating to units under the SBV, credit institutions and interested organizations approved for access to such information.
In addition, enterprises in need of credit rating can acquire their own information from CIC for reference when they want to make loans from credit institutions or use in self-assessment of their capability.
The SBV stipulates that those agencies and enterprises must use such information for proper purposes and not disclose the information to any third party.
Mr. Dao Quang Thong, Deputy Director of CIC, said a detailed plan for the SBV' decision will be completed in this week.
Accordingly, CIC will base on two important documents for credit rating, which are the financial reports of two or three latest years and the debt balances of enterprises at banks.
Enterprise credit rating will be assessed in nine levels, AAA is the highest level and C is the lowest.