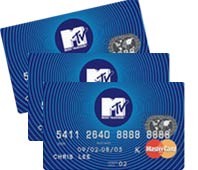 Vietcombank-MTV International Credit Cards.
The Bank for Foreign Trade of Viet Nam (Vietcombank), the MTV Asia Recreation and Television Company and the MasterCard Organization announced their joint issuance of a new international credit card Vietcombank-MTV using the MasterCard brand name in Viet Nam.
The new cards, which are linked directly to personal deposit accounts at Vietcombank, ensure high security as 100 percent of transactions are encrypted and they are secured by the international standard technological infrastructure.

Besides main uses of the cards such as withdrawing cash or buying goods and services at millions of MasterCard points of sale in Viet Nam and the world, they will provide holders with preferences appropriate to young people, including bonus points and opportunities to attend special MTV programs, etc.