Foreign trade lender Vietcombank continues looking for a merger partner, according to a statement by bank Chairman Nghiem Xuan Thanh, speaking during an April 24 shareholders meeting.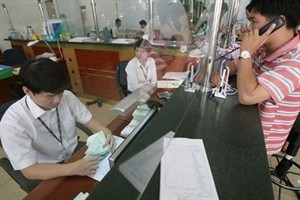 Transactions at a Vietcombank branch in Ha Noi. The bank is seeking a merger partner to boost its scale, capital and network (Photo: VNS)
"The management board has to study the issue and yet has no detailed schemes. We shall inform shareholders when an official partner is found," he said. "As we aim to become the No. 1 bank in Vietnam, in terms of size and quality, this must be scrutinised with caution."
He added that any potential partner would have to be financially secure and have the ability to help the bank boost its scale, capital and network.
While Vietcombank shareholders had adopted the merger plan in late 2014, State Bank of Vietnam (SBV) Governor Nguyen Van Binh said in January that Vietcombank was set to merge with Saigonbank as part of the general banking reform.
Binh said all operational indicators at Vietcombank were healthy, but the bank needed to become more innovative to transform itself and overcome certain hindrances in its future development.
"In order to become the No. 1 bank in Vietnam, Vietcombank has no other option but to take part in the restructuring process, together with the SBV – specifically through the merger with Saigonbank," he noted.
However, asked by shareholders today whether Vietcombank would merge with one of the five credit institutions in which it owned stakes, Thanh affirmed that the management board had not planned for that.
According to news website cafebiz.vn, the bank currently holds stakes of 4.37 percent in Saigonbank and 5.07 percent in Orient Commercial Bank, alongside 9.59 percent in Military Bank, 8.24 percent in Eximbank and 10.91 percent in Cement Finance Company.
Thanh said, as new State regulations stipulated that a credit organisation was allowed to hold shares in no more than two other credit institutions, with a combined stake of 5 percent at maximum, Vietcombank would gradually divest from those lenders.
He added that the State's stake in Vietcombank was expected to fall to 65 percent in the future, from the current 77 percent, as the bank planned to increase capital by offering other shareholders a greater ratio of its equity.
This year, the bank targeted a pre-tax profit of VND5.90 trillion (US$280.95 million), equivalent to last year's figure, and a dividend rate of 10 percent. It also aimed to report a deposit growth of 12 percent, lending growth of 13 percent, and a bad debt ratio of below 2.5 percent.
Its total asset value is expected to grow 11.5 percent year-on-year to VND643 trillion (US$30.62 billion) in 2015.