For the first time in Vietnamese history, commercial banks in the country are ready to accept breakevens or even losses in foreign currency transactions as they quoted buying and selling prices Tuesday at the same rate: VND16,079 to one US dollar.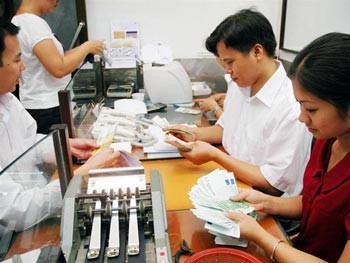 Transaction at a HCMC bank (Photo: Tuoi Tre)
This rate is the lowest rate possible, as permitted by the State Bank of Vietnam, the nation's central bank, which on Tuesday listed the interbank foreign exchange rate at VND16,160. This latter rate determines the ceiling and floor rates for dollar-dong transactions that can be quoted by commercial banks.
Joint-stock banks Eximbank and ACB were the first to quote buying and selling prices at the aforementioned minimum level.
Even at this level, the actual selling price for US dollars is even lower, as few want to buy the greenbacks, several banks said.
Only a few banks list offering prices a bit higher, including state-owned Vietcombank, which is set to profit 3 dongs for each US dollar sold—if customers can be found.
Vietcombank officials explained that it had no alternative but to quote this high since it had already "mistakenly" bought US dollars at high rates, though it realizes that customers will probably shy away as other banks are offering lower prices.
Many foreign banks have even stopped buying US dollars for fear the currency would cause its dollar-dong reserve rate to exceed state limits; this puts the majority of responsibility for US dollar transactions on domestic banks.
"The US dollar tendency to depreciate against the VND means buying the greenbacks now will incur losses," a major bank's senior official said.
Unable to reduce selling prices for the US dollars due to the state bank's cap, commercial banks have even switched to lowering prices on the interbank market, down to VND16,050-16,060. But even then, many banks dare not buy any more US dollars.
No need for gov't interference: central bank official
A senior banker wishing to remain anonymous complained that his bank approached the State Bank of Vietnam (SBV) almost everyday for the past 2 months to sell US dollars, but the latter refused.
"If it agrees to purchase US dollars, everything will move smoothly. But instead, it closes its doors, obstructing capital flow. There are days when it does not quote any related rates at all."
However, SBV early this year swallowed up massive US dollars in an attempt to increase foreign currency reserves and to keep the dong-dollar exchange rate beneficial for exports.
Central bank interference is not yet necessary because not every bank is in excess of US dollars, only those strong in import-export activities, a SBV official said.
"Besides, those profuse in US dollars can sell to those who lack. This can balance itself," this official added.
He also said that the VND currency appreciation is only "inherited" from objective causes, including the falling US dollar on the international market, and strong foreign investment flows into Vietnam.
"The SBV only interferes when VND liquidity at commercial banks is threatened."
A finance expert wishing to remain anonymous told Tuoi Tre that SBV's heavy purchasing of US dollars early this year was not good practice for market regulation.
"Now commercial banks are waiting for SBV to buy US dollars as before. The former are like those being put in a bag tied by the latter (SBV). If the bag is too tight, the latter has to open it," he commented.
"SBV will have to buy US dollars and the government will have to issue VND-denominated bonds. The tools are all there to be implemented. SBV only has to ensure the implementation is coordinated," he added.