Vietnamese banks have intensified attraction of foreign capital, cooperation with oversea banks and establishment of subsidiaries and braches in many countries worldwide to take the initiative in international integration.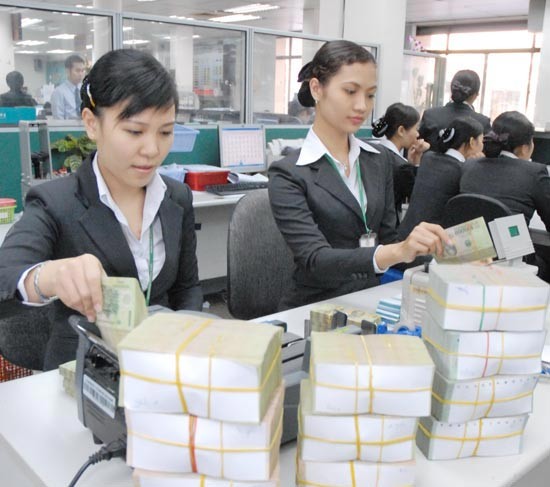 Vietnamese banks have stepped up selling shares to and cooperating with foreign partners, and opening more branches and subsidiaries abroad in preparations for deeper international integration (Illustrative photo: SGGP)
Despite of deep debts, Vietnamese banking stocks have attracted the attention of many foreign investors.
VinaCapital Vietnam Opportunity Fund Ltd now holds over 5 percent chartered capital of Vietnam Export Import Bank and becomes the third largest shareholder of the bank. VinaCapital said it would continue investing in Vietnam's banking.
The first merged bank in Vietnam Saigon Commercial Bank (SCB) has recently attracted two Bristish investors who purchased 14 percent of its shares in the latest chartered capital increase to nearly VND14.3 trillion (US$635.92 million) from VND12 trillion.
According to banks, capital resource attraction from foreign shareholders is necessary in the ongoing restructuring of the banking system. It will help local banks improve financial ability and access advanced management methods and technologies to prepare for global integration.
Therefore, many have mapped out strategies to lure foreign capital. SCB said it is planning to sell shares to oversea partners and seek the State Bank of Vietnam's permission for a higher share sale ratio this year.
An Binh Bank has sold 30 percent shares, including 20 percent to Malaysian MayBank and 10 percent to International Financial Company.
Chairman of the Bank for Investment and Development of Vietnam (BIDV) Tran Bac Ha said it is working on the plan to sell shares to investors abroad in 2016 in the post-merger with the Mekong Housing Bank.
Vietnamese banks have also strengthened cooperation with foreign partners to expand their markets.
BIDV has recently organized bilateral meetings with 14 international credit institutions such as the Industrial and Commercial Bank of China, HSBC, Standard Chartered and Metlife of the US, the Japan International Cooperation Agency, Jujoku, Sumitomo Mitsui Banking Corporation of Japan to seek deeper collaboration.

The bank has agreed with overall cooperation with Cathay United Bank of Taiwan (China) in Cambodian, Lao and Burmese markets.
HD Bank and Hana Bank of South Korea have reached a strategic cooperation agreement after the Vietnam-South Korea Free Trade Agreement was signed.
Saigon Thuong Tin Commercial Bank (Sacombank) and the Korea Chamber of Commerce and Industry have signed a memorandum of understanding to establish cooperative relations.
Southern Bank would officially merge into Sacombank from October 1 as per the State Bank of Vietnam's decision in September.
Broadening market abroad
Many Vietnamese banks have been present abroad in preparations for global integration.
Sacombank is said the pioneer of Vietnamese commercial joint stock banks in expanding its business operation outside the country's territory with the establishment of a branch in Laos since 2008.
 
The branch was upgraded into a foreign bank in Laos with chartered capital of US$39 million in August this year.
So far, Sacombank has own one bank and seven branches in Cambodia, and one bank and two branches in Laos.
The Bank for Industry and Trade of Vietnam (Vietinbank) has opened two branches in Frankfurt and Berlin, Germany so far and launched a bank with US$50 million chartered capital in Laos in August.
The bank's director general Le Duc Tho said they plan to broaden operation to Myanmar in the upcoming time.
Financial experts said that the above moves by Vietnamese banks show their initiative in international integration, which will not only help measure but also improve their competitiveness in local and global markets.